8 Apr 2018
Maratona di Roma 2018

Countdown:
- -- Tage : -- Stunden : -- Minuten : -- Sekunden
ALL TIME FOREIGN REGISTRATIONS RECORD BEATEN AT 100 DAYS TO THE FINAL DEADLINE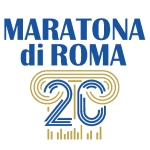 At 100 days to the final deadline, two records already achieved for the 20th edition of Maratona di Roma, taking place on March 23rd 2014: number of foreign runners registered and number of nations represented.

7,064 entries from 102 nations have already been registered while the former record was 7,041 entries from 84 nations in 2011.

THE NUMBERS IN DETAIL

In 1,286 are coming from France (the most representative nation of the last three years) so far; in 852 from UK, in 520 from Germany and in 450 from USA. And here are other interesting details:

192 Norwegians have already entered the race, 135 of whom are coming with Vibeke Bjerg's "FemiRoma", a project based on recruiting beginners to train for 12 months to run Maratona di Roma.

136 entries are bringing Romania to the top ten nations represented at Maratona di Roma.

For the first time ever, Russia broke the number of 100 registration (109, so far).

77 Argentinian runners are already registered (when they were just 32 in 2013).