8 Apr 2018
Maratona di Roma 2018

Countdown:
- -- Tage : -- Stunden : -- Minuten : -- Sekunden
20th ACEA MARATONA DI ROMA: 19.061 ENTRANTS, NEVER SO MANY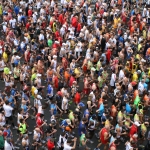 More than 19,000 runners have registered for the March 23rd race: 25.6% more than last edition. 43.2% come from 122 different countries. The 2011 record of 16,188 entrants has become just a vague memory.

The 20th Acea Maratona di Roma, an IAAF Gold Label Road Race event, scheduled for Sunday, March 23, 2014, will enter the history of the Italian road races registering 19.061 entrants. The former record traces back to 2011 editions with 16,188 registrations (12,614 finished the marathon, an absolute record for a sporting racing event in Italy).


The more exciting news of all is the number of Nations represented, 123 (including Italy): the former record was 83 countries in 2010.

Italians athletes are 10,824 (56.8%), while 8,237 are from 122 foreign Countries (43.2%) and the disabled are 86. France, with more than 1,500 members, is the second most represented Nation.

Men are 15,344 (80.5%), 3,717 are the women (19.5%), no other Italian marathon ever exceeded more than 3,500 women.

3,326 are the entrants at their first time at Maratona di Roma and 42 are at their 20th edition, a sign of the approvals that Maratona di Roma is gaining this year.