8 Apr 2018
Maratona di Roma 2018

Countdown:
- -- Tage : -- Stunden : -- Minuten : -- Sekunden
Rome for the second time: Giorgio Calcaterra's challenge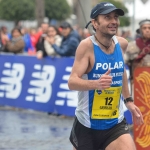 Giorgio Calcaterra is the most famous Italian ultramarathon runner. Calcaterra was born in Rome on February, 11th, 1972 , and he has a special connection to Maratona di Roma. In 1982, when he was only 10 years old, he ran the 5-km non-competitive race for the first time and tried part of the track.
The moment he saw a brochure promoting the race he knew: I want to be a marathon runner. In 1990, when he was 18, he ran his first 42-km race - obviously, in Rome - and finished in it in 03:29. Since then, his life has been an endless and increasingly long and successful race. In 2000 he set his personal best on the distance (02:13:15) and set the world's record of marathons run in one year and finished under 02:20:00 by finishing 16 of them. In 2004, he finished 31 marathons. From 2006 to 2014 he devoted himself to ultramarathons and became the world's champion in the 100-km race for 3 times, (in 2008, 2011 and 2012).
He has also won the "Passatore" race, a 100-km marathon running from Florence to Faenza, for 9 times. Maratona di Roma was where it all started and Calcaterra has decided to honour the event by fulfilling yet another personal enterprise. His goal is to serve as an inspiration for people and encourage them to run for their personal fitness and well-being.
On March 22nd he will be among the first athletes to start the marathon; his objective is to finish the 42.195- race in 02:30.
On the finish line, after having received the finishers' medal, he will run the Maratona di Roma again, encouraging and accompanying all the runners he will meet during the route, and he will finish the 84.390-km race together with the last finisher.
It will be the first time a runner runsA cea Maratona di Roma twice in a row.