8 Apr 2018
Maratona di Roma 2018

Countdown:
- -- Tage : -- Stunden : -- Minuten : -- Sekunden
Don't miss out on the chance to win the new Honda SH300i ABS, it's super easy!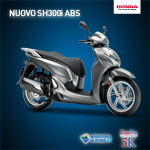 Grab the promotion flyer which you'll find at the Marathon village. If you are registered for the RomaFun - "La Stracittadina", the 5 km run open to everyone, or for the official 42 km Rome marathon, just show your badge (with your runner's number) to the hostess and she will take you to the Honda stand where you'll be able to double your chances of winning!