8 Apr 2018
Maratona di Roma 2018

Countdown:
- -- Tage : -- Stunden : -- Minuten : -- Sekunden
ETHIOPIAN RABO SEARCHES FOR VICTORY IN HONOR OF ABEBE BIKILA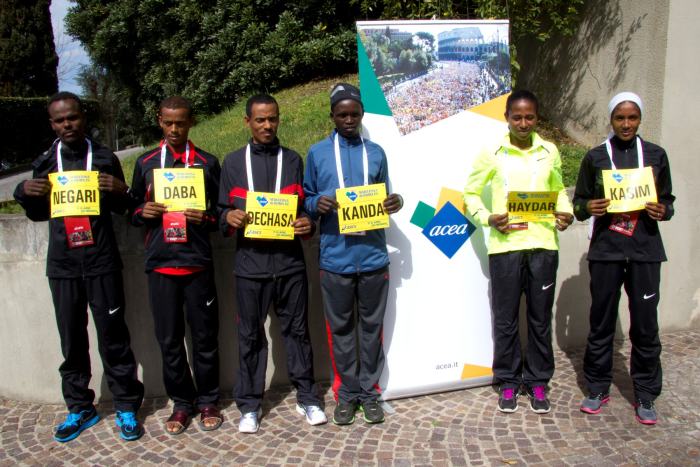 On Friday at the NH Hotel Villa Carpegna the press conference with the presentation of some of the top runners taking part in the 19th edition of Acea Marathon of Rome was held. Some of the most recognized athletes in contention for the success spoke about their expectations for the race on Sunday, March 17.
The stated goal of some athletes, both men and women, is to beat the course record, both times fastest ever courses on Italian soil: the 2:07.17 record of Benjamin Kiptoo in 2009 and 2: 22:53 of Russian Galina Bogomolova in 2008.
THE MEN'S RACE: AFRICAN RUNNERS PUT COURSE REDORD AT THREAT
In 2013 the potential winners of the Rome Marathon come all from Africa: Among them are Ethiopian Chala Dechase , whose personal best is 2:06.33, Ethiopian Bekana Tolesa Daba (2:07.04), Getachew Terfa Negari (2:07.32) and the winner of the 2012 edition Luka Lokobe Kanda (2:08.04) from Kenya. So, African athletes, the kings of the marathon, are, as usual, the favorites: indeed, according to the Rome Marathon Hall of Fame, Kenyan athletes have won the marathon 11 times, Ethiopian runners 4 times.

Luka Lokobe Kanda in his career has won all three marathons in which he participated. "Running in Rome last year has given me a great satisfaction", said the 26 year old Kenyan."I want to win and run in 2:07." Last year Kanda grossed € 40.000 as a reward for victory. "I've invested a great part of the money in buying land in my country, now we are building a house", he said. Ethiopian Chala Dechase challenges him with self-confidence: "I'm ready to race in 2:05".

THE WOMEN'S RACE: EUROPEAN RUNNERS CHALLENGE AFRICAN ATHLETES
The pole position among the African athletes is composed of Ethiopian Ashu Kasim Rabo, with a highly-valued PB of 2:23.09 and Kenyan Helena Loshanyang Kirop (2:23.37). Two other Ethiopian athletes will run for victory: Sechale Dalasa Adugna (2:26.27) and Biruktayit Eshetu Degefa (2:27.34). Among European athletes, the favorite is Sultan Haydar, a Turkish runner of Ethiopian descent, with a personal best of 2:25.09 and Russian Olga Glok (2:27.18).

"I chose to come to Rome for the myth of Abebe Bikila", Rabo said, recalling the Olympic champion of 1960. "I promise: if I am the first with a little ahead, I will remove my shoes in the final straight." So did in the past her countrymen Siraj Gena, winner in 2010, and Firehiwot Dado, who triumphed for the third consecutive time in 2011. But Sultan Haydar, who trains together with Rabo in Ethiopia, said: " I want to beat her and run strongly, close to 2:23 ."