8 Apr 2018
Maratona di Roma 2018

Countdown:
- -- Tage : -- Stunden : -- Minuten : -- Sekunden
AT 9,30 AM the 19th ACEA MARATONA DI ROMA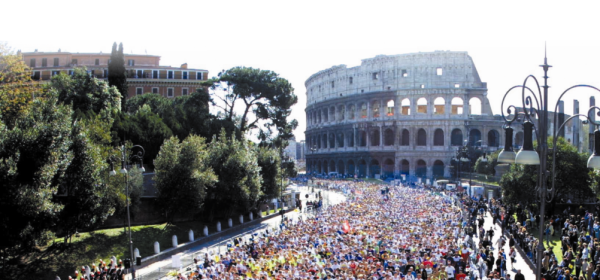 The 19th Acea Maratona di Roma, IAAF Gold Label Road Race is going to be held today, March 17th 2013. Start will be at 9:30 am from the Colosseum, with the finish line placed there too.
14,183 athletes have entered the race (11,871 men, 2,312 women). 8,016 runners come from Italy, 6,167 from abroad. 82 countries will be represented at the start – this makes of the Rome Marathon a truly international event.
132 disabled athletes have entered the race.
12,500 runners and 49 handbikers finished the Rome Marathon 2012, which has been the 18th largest marathon of last 2012, among more than 2,400 others.
The event will be broadcast live in Italy on La7, from 10:30 am to 13:25 pm CET . Swedish TV rights distribution company IEC guarantees coverage in 74 countries of all continents, from 10:30 am to 13:25 pm CET. Alongside with the marathon, also the traditional "RomaFun" will be staged. A huge non-competitive 4k, whose participation in recent years rocketed over 80,000. Start is scheduled at 9:45 am, unless postponement of the marathon.
THE 2013 ROME MARATHON RACECOURSE
The classic racecourse which has made of the Rome Marathon one of the world's most scenic races, is also confirmed. Slight variations, less than 1km, will occur only the area surrounding the Holy See. The traditional Rome Marathon racecourse is considered by runners and spectators one of most scenic in the globe. In facts, it appears to have been designed by Rome's tourist board, for how it leads runners by many of the city's wonders and sites. The competition seems to be held in an outdoor museum, as the starting line is placed in front of the Colosseum, with the course continuing past Piazza Navona, Trevi Fountain, Spanish Steps, Piazza Venezia, Theatre of Marcellus, Circus Maximus, through narrow, cobblestone streets, past other magical sites of the Eternal City, then crossing the finish line as runners return back to the ancient Colosseum.
More than 500 monuments, landmarks and archaeological sites are included in the course. Time limit is 7 hours.