8 Apr 2018
Maratona di Roma 2018

Countdown:
- -- Days : -- Hours : -- Minutes : -- Seconds
#smartforward contest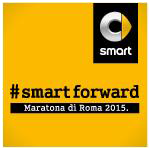 For the XXI Rome Marathon on March 22nd, smart has promoted the #smartforward contest. There are many initiatives to play, have fun and try to win one of the final prizes up for grabs: a 32 GB iPod touch and a smart e-bike.
Signing up on the site www.smartforward.it, from March 19 to 22 will provide the opportunity to participate in the initiative that is giving away a smart e-bike. Participants will be asked, after registration, to send a tweet with the hashtag #smartforward to tell the most incredible personal record reached in order to indulge their passions.
In its stand at the Marathon Village from March 19 to 21, after signing up for the competition, smart will give everyone the opportunity to engage in an original gaming experience: a virtual challenge down to the last meter riding an e-bike. Among those who beat their virtual opponent, the winner of a 32 GB iPod touch will be drawn.
In the opening days of the Marathon Village, smart will give everyone the opportunity to try new the smart vehicles: the forfour with automatic transmission and the fortwo with manual transmission. Those who register at #smartforward, avoid the wait of filling out the form necessary to test-drive at the smart stand.
In addition, for those who are registered with #smartforward who choose to participate in the RomaFun "La Stracittadina", the 5 km non-competitive run that is open to all, smart will extend a discount of 3 Euros on their application.