8 Apr 2018
Maratona di Roma 2018

Countdown:
- -- Days : -- Hours : -- Minutes : -- Seconds
DOUBLE VICTORY FOR ETHIOPIA AT 21st ACEA MARATONA DI ROMA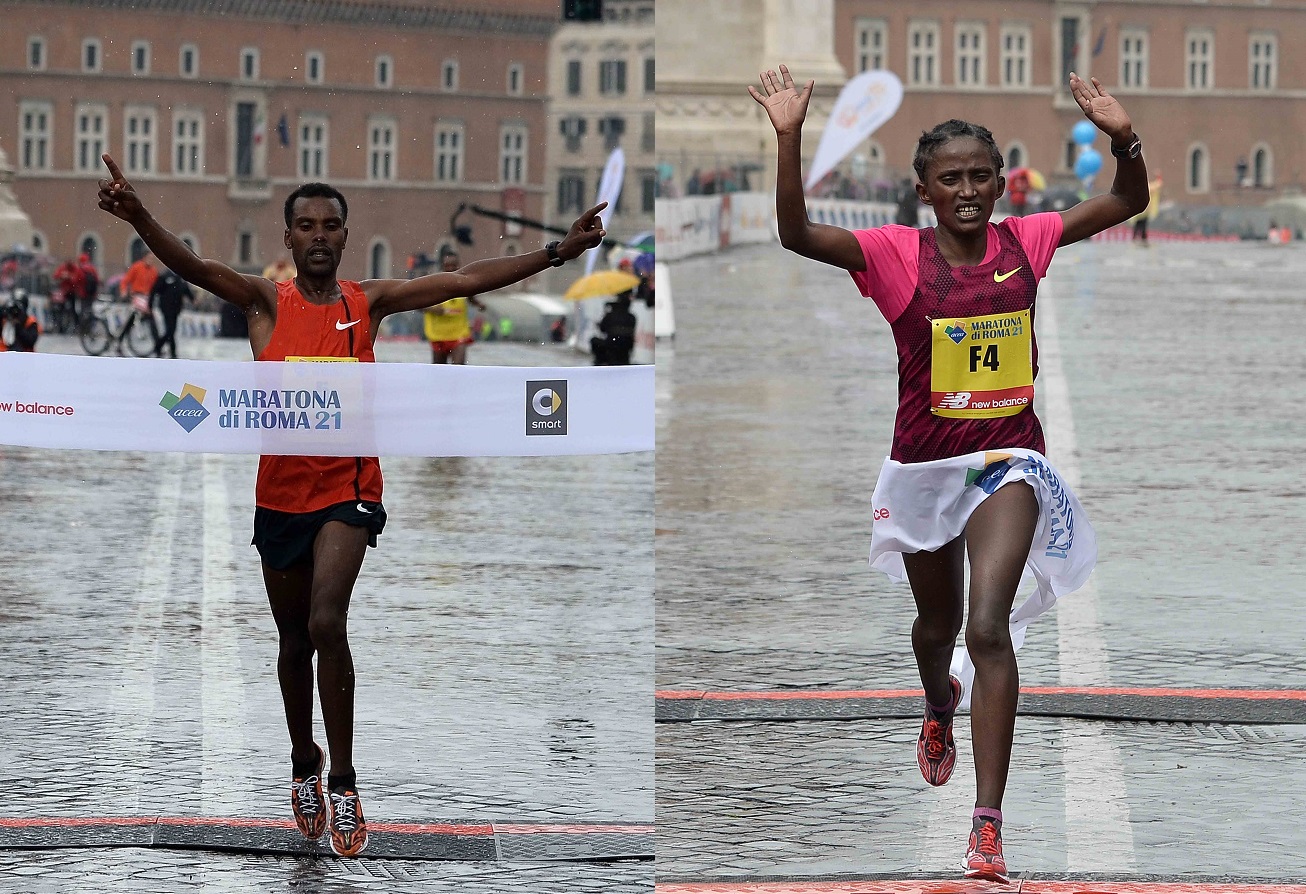 In windy and rainy conditions, Ethiopia's 30-year-old Abebe Negewo Degefa won the 21st Acea Maratona di Roma, held this morning, with a time of 2:12:23. Meseret Kitata Tolwak, 20, took the honours in the women's race (2:30:25).
With one kilometer to go Degefa dropped his country mateBirhanu Addissie Achamie, 20, who closed 9 seconds behind the winner (2:12:32). Ethiopia took first and second placing among the women as well. Alem Fikre Kifle crossed the finish line with a time of 2:31:01, after running shoulder-to-shoulder with Tolwak until 37km.
Italy's athletes took the third place in both the men's and women's races, with Morocco-born Jamel Chatbi (2:14:04) and Deborah Toniolo (2:36:30). The last time of a double podium for Italy in Maratona di Roma was in 2005.
Ruggero Pertile, who was 8th at 2011 World championships in Daegu and 10th at 2012 Olympic Games in London on the marathon, closed in 5th place (2:15:40)
Giorgio Calcaterra, a three-time 100km world champion, closed the marathon in 9th place with 2:34:26. After the anti-doping test Calcaterra, who lives in Rome, started for a second tour of the course and caught the last runner with 2 km to go. They crossed the finish line together.

11,516 runners finished the marathon and about 50,000 ran the non-competitive 5km RunFun.
After the Angelus in St. Peter's square, also The Pope Francis welcomed the Rome Marathon, whose course crossed the Vatican City. "Despite bad weather, there's a lot of you here today," he said to the pilgrims, "You were courageous, like the runners of the marathon. I greet them with love".
The next Maratona di Roma will be held on 3 April 2016.
COMPLETE RESULTS
MEN'S RACE
1. Abebe Negewo Degefa (ETH) 2:12:23
2. Birhanu Addissie Achamie (ETH) 2:12:32
3. Jamel Chatbi (ITA) 2:14:04
4. Dadi Feyera Gemeda (ETH) 2:15:05
5. Ruggero Pertile (ITA) 2:15:40
6. Weldon Kiprono Korir (KEN) 2:22:18
7. Nekatibeb Nurelign Tekeste (ETH) 2:25:58
8. Michael Kalomiris (GRE) 2:29:30
9. Giorgio Calcaterra (ITA) 2:34:26
10. Domenico Liberatore (ITA) 2:34:31
WOMEN'S RACE
1. Meseret Kitata Tolwak (ETH) 2:30:25
2. Alem Fikre Kifle (ETH) 2:31:01
3. Deborah Toniolo (ITA) 2:36:30
4. Annelie Johansson (SWE) 2:40:05
5. Anastasiya Kushnerenko (RUS) 2:40:23
6. Irina Smolnikova (KZK) 2:43:06
7. Jane Fardell (NZL) 2:45:07
8. Maurizia Cunico (ITA) 2:52:39
9. Renate Vranken (HOL) 2:55:31
10. Silvia Luna (ITA) 2:57:15