8 Apr 2018
Maratona di Roma 2018

Countdown:
- -- Days : -- Hours : -- Minutes : -- Seconds
MARATONA DI ROMA 22, JUBILEE EDITION - REGISTER NOW!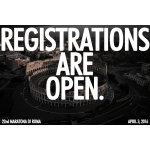 Registrations are open!
To register on line for the Rome Marathon the athletes must use the reserved area MyMDR.
The athletes, who already have a user-id and password, can enter and follow the instructions.
For the athletes who register for the first time it is necessary to register; once the registration will be completed, an e-mail with a validation link and with the own user-id and password will be received.
The reserved areaMyMDR will be useful also to register in the other races organised by the Italia Marathon Club.