8 Apr 2018
Maratona di Roma 2018

Countdown:
- -- Days : -- Hours : -- Minutes : -- Seconds
MDR 2016: REAL TIME AND WAVE START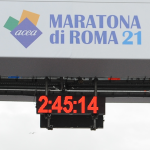 Two important news are planned for the next Rome Marathon (Jubilee Edition): "Real Time" (Net Time) and "Wave start".
Since 2016, the rankings will be realized according to the real time. The time of each athlete, will be calculated from the moment of his/her passage on the start line to the crossing of the finish line.

To make the flow of athletes easier when starting and to allow the best refreshment management along the course, the start will be realized in "wave way".