8 Apr 2018
Maratona di Roma 2018

Countdown:
- -- Days : -- Hours : -- Minutes : -- Seconds
THE MEDAL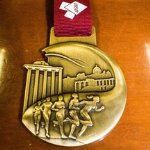 The medal represents all the marathon runners pictured as single mass, without finalizing the focus on the individual, by means of curved lines that accentuate the movement. Backdrop, in stylistic synthesis, we find the Roman Forum, scenario of the marathon starting and finish line, and in particular can be seen on the left, in a more close, the remains of the Temple of Saturn, which, after the Temple Vesta and Jupiter, is the oldest sacred place in Rome.
There is also a mention of the water theme, with an hint inspired by Aqueduct Claudio, in Rome. More or less veiled, finally, there is the fish, Christian and pagan symbol that refers the extraordinary Jubilee year of 2016.