8 Apr 2018
Maratona di Roma 2018

Countdown:
- -- Days : -- Hours : -- Minutes : -- Seconds
April 7 – 9 Marathon Village Blood Drive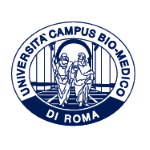 Policlinico Universitario Campus Bio-Medico will hold a Blood Drive and Donation Awareness Day in occasion of the 22nd Marathon of Rome

Come donate from April 7 to April 9 at The Marathon Village, Palazzo dei Congressi (Piazza J. F. Kennedy 1 – EUR Roma).
If you're interested , please remember a few requirements established by law:
• you must be between 18 and 60 years of age


• you cannot weigh less than 50 kilograms.


• you can't have had a severe illness


• you can't suffer from a chronic disease


• before donating , a light breakfast is allowed (coffee, tea, fruit juice, toast, marmalade, honey).


• avoid dairy products


• Blood tests will be performed upon each donation and will be sent to you free of charge: blood group, irregular antibodies search, erythrocyte, Complete Blood Count, ALT, Hepatitis B and C, HIV, syphilis. Periodic donators are entitled once a year to the following exams: creatinine, blood glucose, Blood protein level - Blood Protein Electrophoresis, cholesterolaemia, triglycerides, ferritin.

Health at heart: an excellent reason to give blood!


Giving blood is a gesture of great ethic and civic value, necessary to save and improve the lives of the ill. Blood cannot be artificially produced and the availability of this priceless resource depends entirely on the generosity of donators.
In addition from being an act of unselfishness, giving blood is also beneficial for the donator. By undergoing the routine check-ups and exams that are performed before each donation it is possible to spot illnesses which otherwise would not have been recognized before the occurrence of symptoms. A periodic donation furthermore, favors the renewal of blood cells.