8 Apr 2018
Maratona di Roma 2018

Countdown:
- -- Days : -- Hours : -- Minutes : -- Seconds
Race Day Info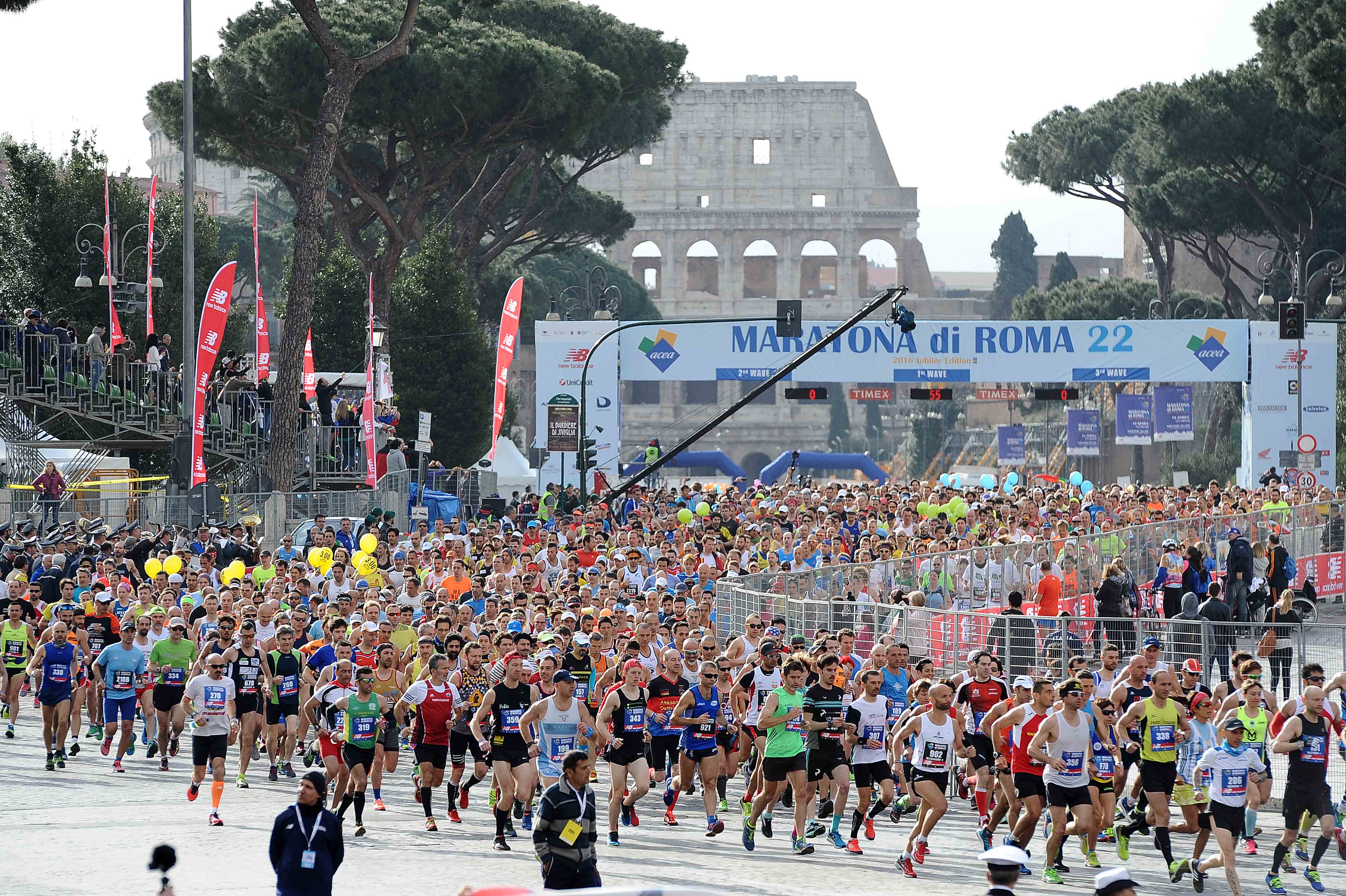 BIB NUMBER Bib numbers are assigned on the basis of running times declared by each
participant during registration. Since your bib number also displays your personal data, it
must exclusively be worn by you. No swapping is allowed. Please check for mistakes and
possibly report any immediately to the staff in charge. The timing chip is disposable and
embedded in the back of race bib. Place the safety pins by using the holes at the bib's
corners. Do not fold your bib. Bib numbers must be PROPERLY fixed on the front of your
race t-shirt and made visible. Your bib corresponds to your starting area. You will have to wear it show to the staff members when entering the restricted athletes area in Piazza del Colosseo and in Via dei Fori Imperiali.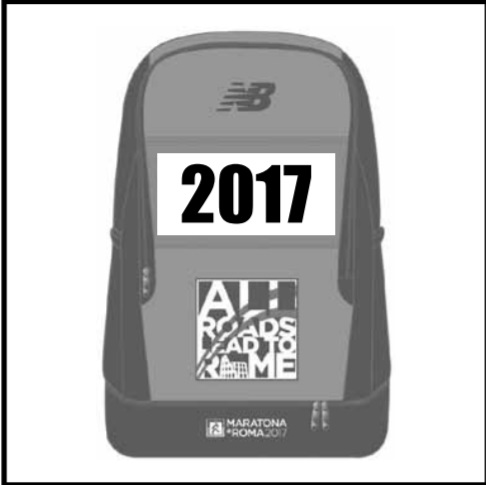 FREE METRO (On the race day) travel metros A, B, B1 and C will be free of charge for all marathon and Fun Run La Stracittadina participants. From: 6 am – 8.30 am, at stops monitored by ATAC staff, and from Metro B stops of Circo Massimo, Cavour e Colosseo (accesso da Largo Agnesi) from 6 am – 5.30 pm. Your bib number must be made visible. Please note that the exit on via dei Fori Imperiali of Metro B stop Colosseo will be closed.
STARTING AREA - VIA DEI FORI IMPERIALI Access to ALL RUNNERS must occur through PIAZZA DEL COLOSSEO from 6.30 am (getting in from Via di San Gregorio and Via Celio Vibenna) following the left luggage service area and toilet facilities. At this point you will find an entrance arch where you will undergo a bib check. You will follow the restricted area and reach enter the pre-race area in Via dei Fori Imperiali. Once you enter Via dei Fori Imperiali, you will find a changing area and other toilet facilities located in front of the Metro B entrance "Colosseo" (on the race day the exit on Via dei Fori Imperiali of this metro station will be closed).
LEFT LUGGAGE SERVICE A left luggage card with your bib number will be included within your bib envelope and 

MUST BE INSERTED IN THE TRANSPARENT POCKET OF THE NEW BALANCE MARATONA DI ROMA 2017 BACKPACK. 
If you wish to use the Left Luggage facilities you must use this backpack only; no others will be accepted. 
You may use this service until half an hour from the race start. The Organization will not be held responsible for valuables left inside the backpack. 
You may find the left luggage lorries in Via dei Fori Imperiali (starting after the access from Piazza del Colosseo): at first the lorries for men (spread up to front Metro B Colosseo) 

and then the lorries for women (spread up to front "Tourist Information" center) . Each lorry is marked with a number which you will find on your BIB. 
Please use the lorry with the corresponding number.
You will be able to collect your backpack from the same lorry at the Marathon finish area
(Via dei Fori Imperiali). From 8.00 am it will be no longer be possible to accept backpacks since the lorries. No other type of sac or backpack will be admitted in the pre-race area and in the race course!
PRE-RACE CHECK AND START In front of the "Tourist Information" center, moving on in Via dei Fori Imperiali, you will find two arches which will indicate the side of your starting area letter as follows: on the left hand sideentrance to areas Top (51-100 and F31-F70) and C and on the right hand side entrance to areas B and A. By identifying your side, you will help us insure a more lean and easy entrance for all. Entrance to this area will be granted from 7.40 am in Via dei Fori Imperiali / Largo Corrado Ricci. You will enter the cordoned area which will lead you to the Start along the passages marked by 4 colored balloons corresponding to the bib colors: from left to right you will find the access for the Yellow Bibs (51-100 F31-F70) Top Area, the Orange Bibs C area, the Green bibs B area and the Blue bibs A area (in this area you may undergo a check to ensure proper functioning of your chip. Attention: any runner found with an irregular or counterfeit bib will be disqualified!). You will be channeled through the area corresponding to your bib number and reach your start area. Once you enter the start area you will not be able to exit unless you wish to leave the race completely. The following start areas have been established on the basis of the PB you have declared.
Men and Women:
Start Top area: yellow bib numbers
Start A area: blue bib numbers
Start B area: green bib numbers
Start C area: orange bib numbers
You may only enter the area which has been assigned to you, although runners who have
been assigned area A may choose to start from areas B or C, and those in B may choose to start from area C. This has been arranged in order to improve the initial flow of athletes and help the overall organization.
Please be a good sport and allow the faster runners to get off to a good start. Please note
that your 'real time' will be recorded and valid. The race will start at 8:35 am (slight time
variations may occur depending on technical or television requirements).
WAVE START In order to improve the flow of athletes during the start phase of the race and for an optimum management of the refreshment areas along the whole course, a "wave" start has been established. The start line will undergo no variation with regards to last year and will be located, as usual, in Via dei Fori Imperiali (close to Via di San Pietro in Carcere). The race will start at different time slots according to the starting areas.
Results for Top runners (men from 1 to 50 - women from F1 to F30 and the first ten athletes, men and women, finishing the race) will be based on the time at the gunshot official race start, while for all the others, ranking be based on the Real Time which will also be valid for category and club ranking. Wave start times have been arranged as follows:
- 8.35 am: runners with disabilities start
- 8.40 am: first wave start - Top + athletes in A area
- 8.45 am: second wave start - Athletes in B area
- 8.51 am: third wave start - Athletes in C area
On the Start and Finish line structure and every 5 kms you will find three different chronometers each corresponding and indicating the wave timing.
RUNNERS WITH DISABILITIES
Handbike and wheelchair athletes will start at 8:35 am so please cheer and respect them
and do not get in their way.
PACERS Look after and follow your pacers! Here below are the colours and related times:
1st Wave: 3:00 yellow, 3:15 green, 3:30 light blue;
2nd Wave: 3:30 light blue, 3:45 orange, 4:00 pink, 4:15 white, 4:30 blue;
3rd Wave: 4:00 pink, 4:15 white, 4:30 blue, 4:45 red, 5:00 purple, 5:30 dark green,
6:00 silver, 6:30 brown, 7:00 gold, 7:30 black.
You will find them well distributed according to their times in the related start waves
and areas. For your convenience, on the basis of the new different waves, pacers with
the same time will be distributed within the different start waves.
UNOFFICIAL RUNNERS AND BICYCLES Unauthorized bicycles are strictly forbidden. Traffic wardens and race supervisors will be present to enforce this rule. The Marathon is a foot race and bicycles could place competitors at risk.
TIME LIMITS Anyone who does not reach the half marathon within 3:45 and 35km within 6
hours from the gunshot start will be asked by the judges to stop.
THE OVERALL TIME LIMIT IS 7H30 FROM THE TIME OF THE THIRD WAVE GUNSHOT. The time limit will be maintained by two pace makers who will be wearing black shirts and
balloons with the time 7:30 time mark. Once the pace makers will pass the 10, 15, half
marathon, 25, 30, 35 kilometres, athletes found at a considerable distance behind them
will be assisted if necessary and asked to leave the competition due to the request and
needs of local authorities.
FINISH AREA (Via dei Fori Imperiali) At the 42km, you will be guided towards the arrival.
Once you pass the finish line you will be handed the following (in this order):
- the medal;
- a thermal blanket;
- a goody bag containing water, an energy drink, fruit, and other food supplements.
In a specific area at the arrival you will find a refreshment for athletes suffering celiac
disease (by AIC and L'Altro Alimento Ostia). Medical staff will be on-hand immediately after the finish on the left hand side.
Once you leave the finish line area you will be welcomed by the organization staff who
will guide you towards the Medical station, the Massage, refreshments and Left Luggage
areas. You will also find official photographers who will be glad to take pictures of you,
your medal and the beautiful surrounding area of ancient Rome. Once you reach the Left
Luggage area you will be able to retrieve your backpack by locating your truck on the basis of
the number located on your BIB. You will also find the toilets and change area in front of
the Metro Station "Colosseo", please respect and take care of the areas surrounding you.
In this area, in Via dei Fori Imperiali/Colosseo, in front of the "Tourist Information" center, you will find the medal engraving tent where you will be able to personalize your medal (service with charge – a voucher will be in your bib envelope, if you have pre-purchased it: don't forget to bring it on the race day).
WITHDRAWAL If you wish to withdraw, a shuttle service to the start/finish area,
provided by Protezione Civile (Civil Protection Unit), will be available at the half
marathon, Km 25, 30 and 35 as well as busses available at the first aid points.
RESULTS - DIPLOMA - PHOTOS – VIDEOS - APP Official rankings including intermediate and
final times (provided by TDS) will be available after the race free of charge on www.
maratonadiroma.it and where you may also download your participation diploma for free.
On www.fotostudio5.com you can purchase a diploma on special paper with the picture of
you crossing the finish line. All the pictures (both of the race course and at the finish) will
be on sale at www.fotostudio5.com. Personal videos (service by MySports and sponsored
by New Balance) will be available after the race free of charge on www.maratonadiroma.it
and on Facebook profiles of the participants who join the service If you have purchased the
HD personal video streaming / download service, you can access the MySports.tv website
from the rankings page: you will find your video on this site.
Maratona di Roma by New Balance app: download it for free. General Info, Live Tracker, interactive map of the race course, immediate results: your race in Rome!
SHOWERS SERVICEIf you would like to take a shower after the marathon, the following
facility will be available and free to runners (timetable: 11 am – 6 pm):
- STADIO DELLE TERME DI CARACALLA "NANDO MARTELLINI" Viale Guido Baccelli, 14 (near Metro B Circo Massimo)
Show your bib number at the entrance.
ART CARD Maratona di Roma Art Card allows two free admissions for ten museums and
art galleries of Rome, part of the museum network of the Ministero dei Beni e delle Attività
Culturali e del Turismo (MIBACT). Valid from March 30th until April 6th 2017. You will find the Maratona di Roma Art Card or during the delivery of your bib number or of the race packet at the Marathon Village. Info: www.maratonadiroma.it
COMPLETE RANKINGS ON "CORRIERE DELLO SPORT" - Monday April 3, Corriere dello Sport, City of Rome edition, will publish the complete rankings of the Acea Maratona di Roma 2017.
Next Maratona di Roma will take place on 8 APRIL 2018.