8 Apr 2018
Maratona di Roma 2018

Countdown:
- -- Days : -- Hours : -- Minutes : -- Seconds
MARATONA AND GRAN FONDO: DUATHLON FOR GLADIATORS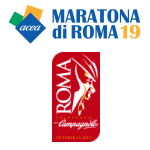 The Rome Marathon, Italy's largest 26miler, and the Gran Fondo Campagnolo Roma, one of the country's finest amateur bicycle races, have teamed up.

The partnership aims to boost mutual promotion and to market the city of Rome as a great venue for endurance sport events.

A 15% discount will be provided to athletes registering to both races (the promotion is already valid for Gran Fondo finishers 2012 willing to participate in the Rome Marathon 2013).

The partnership has been announced today by both organizing committees. A presentation press conference will be held next Tuesday, February 12th. President of Italy's National governing bodies for cycling (Renato Di Rocco) and Athletics (Alfio Giomi) will be attending.

A special "duathlon" ranking will also be provided to athletes participating in both events, with a specific prize purse.

More information about the Gran Fondo Campagnolo Roma at granfondoroma.it.