8 Apr 2018
Maratona di Roma 2018

Countdown:
- -- Days : -- Hours : -- Minutes : -- Seconds
Archeo-running, history teachers wear trainers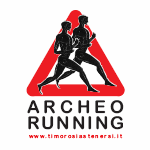 Ok, you're about to run on one of the world's richest and most beautiful marathon courses. Is your stopwatch all your eyes are really interested in? We've got a better option.
CoopCulture, in cooperation with Timorosi Astenersi and Passo Capponi running clubs, now gives athletes the opportunity to enjoy the Rome Marathon together with a team of "archeo-runners", qualified tourist guides in running shoes, who will tell you interesting facts about the landmarks placed between the Gasometer and St. Peter's Square and between Piazza Navona and Piazza Santi Apostoli. You'll just be amazed by the amount of marvels to discover.
Please note you must be registered to the Rome Marathon (and wear the bib) in order to take advantage of the service.
Registration fee: EUR 16.00 - Whisper Headset rental included.
The service will be available in italian only.
Places are limited. Registration is compulsory. Payment due upon registration. To sign in please call CoopCulture at +39 0639967301.
For more information: archeorunning@maratonadiroma.it.