7 Apr 2019
Maratona di Roma 2019

Countdown:
- -- Tage : -- Stunden : -- Minuten : -- Sekunden
RUN FOR A CHARITY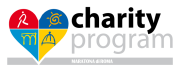 Run the marathon for a great cause. Do not miss the opportunity to transform lives and give back to the community. Last year, the Rome Marathon charity program was made up of 103 charities - 80 of them were Italian and committed in the 5k, while hundreds of American, British and Canadian runners and walkers fundraised for 23 foreign charities.
Running with one of our charity groups is a great way to not only conquer 26.2 miles, but to contribute to a worthy cause.

Charities interested in entries for the Rome Marathon 2014 should contact comunicazione@maratonadiroma.it.