7 Apr 2019
Maratona di Roma 2019

Countdown:
- -- Tage : -- Stunden : -- Minuten : -- Sekunden
RACE DAY INFO - 42,195k
BIB NUMBER Bib numbers are given on the basis of running times declared by each participant at the time of registration. Since your bib number also displays your personal data, it must only be worn by you. Absolutely no swapping is allowed. Check for mistakes and report them immediately to staff in charge. The timing chip is disposable and embedded in the back of race bib. Use four safety pins at the holes at the bib's corners. Do not fold your bib. Bib numbers must be affixed PROPERLY on the front of your race t-shirt and made visible.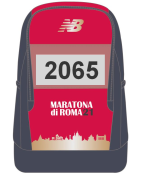 LEFT LUGGAGE SERVICE A left luggage card with your bib number will be included with your bib envelope and MUST BE INSERTED IN THE TRANSPARENT POCKET OF THE NEW BALANCE BACKPACK. Those intending to use the Left Luggage facilities must use only this backpack; no others will be accepted. The Organization will not be held responsible for valuables left inside the backpack. Left luggage lorries that will be parked on Via Di San Gregorio (from Via Celio Vibenna to Porta Capena). Each lorry has a own number which is verifiable on your bib number. Use the lorry with the corresponding number. You must collect your backpack from the same lorry at the Marathon finish area (Via dei Fori Imperiali). From 8.20 it will be no longer possible to accept backpacks because the lorries will have to move from Via di San Gregorio.
STARTING AREA - VIA DEI FORI IMPERIALI All runners are obliged to enter from VIA DI SAN GREGORIO – ARCH OF CONSTANTINE in correspondence to the left luggage service.
At this point you will enter the pre-race area in Via dei Fori Imperiali and here you will find the Toilet facilities and a warm-up area (by Fitness Park LaMadonetta).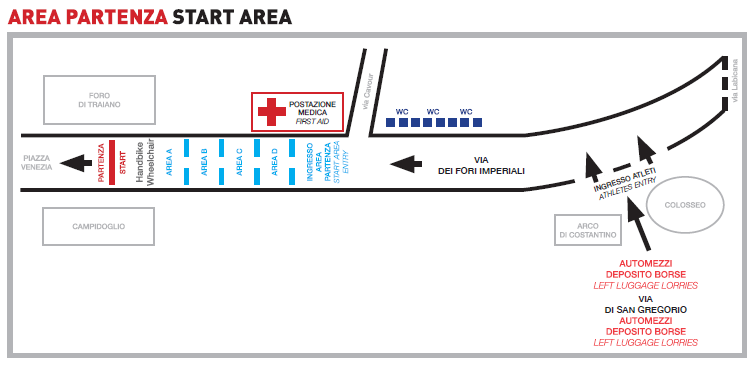 Click here for the Racecourse map
PRE-RACE CHECK AND START is at 7:50 am in Via dei Fori Imperiali (Largo Corrado Ricci). You will enter the cordoned area for transfer to the start. Here obligatory checks will take place to ensure proper functioning of the chip. Runners with irregular or counterfeit bibs will be disqualified. You will then be canalised into corrals, corresponding to your bib number and your start area, directed to Via dei Fori Imperiali, from where you will start. If you leave this area for any reason, you will be disqualified. The following start areas have been established on the basis of the PB declared:
Men Women
Start area Top from 1 to 50 from F 1 to F 30
Start area A (Elite) from 51 to 600 from F 31 to F 150
Start area B from 601 to 3000 from F 151 to F 600
Start area C from 3001 to 8000 from F 601 to F 1800
Start area D from 8001 to 16000 from F 1801 to F 4000
(also fitwalking area)
You may only enter the area to which you have been allocated, although runners
who have been allocated to areas A and B can also start from areas C and D. This
is to aid organisation and modulate the initial flow. Be a good sport and allow the
faster and better trained runners to get off to a good start. You will still be given
the 'real time'. The race starts at 8:50 am (slight variations may occur depending
on technical needs).
DISABLED RUNNERS Handbike and wheelchair athletes will start at 8:45 am so please do not get in their way.
UNOFFICIAL RUNNERS AND BICYCLES Unauthorized bicycles are strictly forbidden. Traffic wardens and race supervisors will be present to enforce this rule. The Marathon is a foot race and bicycles could place competitors at risk.
PACERS Look after and follow your pacers! Please note times and corresponding balloon colours below: 3:00 - yellow, 3:15 - green, 3:30 - light blue, 3:45 - orange, 4:00 - pink, 4:15 - white, 4:30 - blue, 4:45 - red, 5:00 - violet, 6:00 – multicolour, slow run - gold.
REFRESHMENT POINTS 8 refreshment points at km: 5 - 10 - 15 – 20 – 25 - 30 - 35 and 40. Water and energy drinks will be offered in every refreshment point. Fruit and biscuits will be offered starting from km 15 – refreshment point.
SPONGING 7 sponging stations at km: 7,5 - 12,5 - 17,5 - 22,5 - 27,5 - 32,5 and 37,5.
TOILETS These are located at the start/finish area and after all refreshment and sponge stations along the racecourse. Toilets will be open from 7:00am to 4:00 pm.
WITHDRAWAL If you wish to withdraw, a shuttle service to the start/finish area, provided by Protezione Civile (Civil Protection Unit), will be available at Km 25 and 30 as well as at the half marathon mark.
TIME LIMITS Anyone who does not reach the half marathon mark within 3:30 and 35k within 5:50 hours from the gun start will be asked by the judges to stop.
THE TIME LIMIT OF THE MARATHON RACE IS 7 HOURS.
FINISH AREA (Via dei Fori Imperiali) At the 42km mark, you will be guided through arrival formalities. Once you pass the finish line and your chip gives your final time, you can proceed through the arrival corral. Here, you will immediately be awarded a medal to show that you have taken part, along with a thermic drapes. Afterwards, you will be given a goody bag containing Gatorade solution, water, tea, fruits and other high-energy products. Food for coeliacs will also be provided in a specific area. Medical staff will be on-hand immediately after the finish between the refreshment and left luggage collection area, as well as a massage area. You can then proceed to pick up your New Balance backpack from the lorries, by showing your race bib. Various food supplements will also be available in this area in Via dei Fori Imperiali. Please use the toilets provided and keep the surrounding area clean. After the finish you will find staff who will provide you with practical information. They will be recognizable by the vest they will be wearing (with an "I"on it).

Click here for the Racecourse map
MEDAL ENGRAVING
After the finish line, near the left luggage area, in Via dei Fori Imperiali / Colosseo, you will find the medal engraving tent (service with charge – a voucher will be in your bib envelope, if you have pre-purchased it: don't forget to bring it on the race day together with your medal!).
RANKINGS - VIDEO - DIPLOMA - PHOTOS Official rankings complete with intermediate and final times (provided by TDS) and personal videos (by MySports) will be available after the race free of charge on www.maratonadiroma.it, where you can also download your participation diploma for free. On www.fotostudio5.com you can purchase a diploma on special paper with the picture of you crossing the finish line. All the pictures (both of the racecourse and at the finish) will be on sale at www.fotostudio5.com. If you have purchased the HD personal video streaming / download service, you can access the MySports.tv website from the rankings page: your video will be there.
FREE TRANSPORT On the race day travel on the underground (at stops monitored by ATAC staff), trams and buses will be free for all marathon and RomaFun La Stracittadina participants: your bib number must be made visible.
SHOWER SERVICE
If you like to take a shower after the marathon, the following facilities will be open for free to runners: Stadio Delle Terme Di Caracalla "Nando Martellini" Viale Guido Bacelli,
14 (near Metro B Circo Massimo) – timetable: 11.45 am – 5 pm (free) Impianto Sportivo Comunale Uisp "Fulvio Bernardini" Viale dell'Acqua Marcia, 51 (near Metro B Ponte Mammolo) - timetable: 12 pm – 6 pm Due Ponti Sporting Club Via Dei Due Ponti, 48 – Timetable: 12 Pm – 6 Pm Forum Roma Sport Center Via Cornelia, 49 – timetable: 12 pm – 6 pm Show your bib number at the entrance.
ROME MARATHON AFTER PARTY The official Acea Maratona di Roma after party will be held at Nur Bar, in Via del Teatro Valle 19. The party is from 6.30 pm till late at night Sunday, March 22nd. Admission: EUR 10,00 for Rome Marathon and RomaFun 5k participants (don't forget your medal or bib) and friends. Includes buffet and first consumption. Free entry for children under 14. Food is served until 10:00 pm.
ART CARD The Art Marathon Card, to the owner, gives the right to a discount on the cost of the entrance ticket. The list of the agreed museums and archaeological sites is on www.museiincomuneroma.it. Validity from 19th to 24 th March 2015. The card is in your bib envelope.