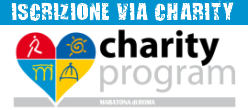 News
The artistic and historical richness of this marathoncourse is unparalleled in the world. There are more than 500 landmarks to discover: Colosseo, San Pietro, ...

RALF J. TRILLANA, young artist born in Manila (Philippines), is the author of the 2015 Maratona di Roma official medal. Short description: WATER FLOATING AND ...

On 22 March, 2015 an athlete, with an incredible sport career, will run the Maratona di Roma. Her name is Sigrid Eichner, born in Dresden on September 29th, ...
Top Runners
Tous les coureurs dÕélite
| | | | | | | |
| --- | --- | --- | --- | --- | --- | --- |
| Drapeau | ↓ Prénom | Nom | Etat | Année de naissance | Record | BIB |
| | ALBINA | MAYOROVA | Italia | | 2h23'52" | |
| | BEYENE DEMEKE | MOSISA | Ethiopia | | 64' | |
| | DENNIS | CURZI | Italia | | 2h11'17" | |
| | EMMA | QUAGLIA | Italia | | 2h28'15" | |
| | GEDA AYELU | LEMMA | Ethiopia | | 2h32'10" | |
| | JACKSON KIPKOECH | KOTUT | Italia | | 2h07'30" | |
| | JANAT | HANANE | Morocco | | 2h34'20" | |
| | LEGESE SHUME | HAILU | Ethiopia | | 2h09'06" | |
| | LEONARD KIPKOECH | LANGAT | Kenia | | 59'52" | |
| | MARCELLA | MANCINI | Italia | | 2h33'17" | |
| | MEKONNEN SISAY | JISA | Ethiopia | | 2h06'27" | |
| | MIMMO | RICATTI | Italia | | 2h15'16" | |
| | OLENA | SHURKHNO | Ukraina | | 2h28'15" | |
| | SOBOKA BEYENE | EFFA | Ethiopia | | 2h12'57" | |
| | SOLOMON DEKSISA | GONFA | Ethiopia | | 62'16" | |
| | WALTER PETER | KORORIA | Kenia | | 2h16'06" | |
| | WELDON KIPRONO | KORIR | Kenia | | 62'42" | |