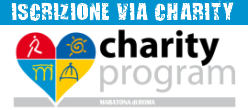 Focus
Guess what? The Marathon is over and it's time to party! Runners, friends, spectators: we are delighted to invite you to keep celebrating for a few more hours ...

Maratona di Roma celebrates his 20th Anniversary with an extraordinary race packet: every participant will receive a backpack and a technical tee branded ...

Run the marathon for a great cause. Do not miss the opportunity to transform lives and give back to the community. Last year, the Rome Marathon charity program ...
Maisons Des Enfants ONLUS
Referente: Ilaria Lupino
Telelfono: +39 331.8130974
info@mademada.org
www.mademada.org

Maisons Des Enfants ONLUS opera in Madagascar per la difesa dei diritti fondamentali che dovrebbero essere garantiti ad ogni bambino: diritto ad essere accolto, amato e nutrito, diritto a ricevere un'istruzione e cure mediche.
In particolare, presso il Centre Mère Enfant, sono attivi diversi programmi per prevenire l'abbandono e donare un futuro migliore:
• programma di sostegno alimentare per i bambini;
• programma sanitario per mamme e bambini;
• formazione al lavoro per le mamme;
• programma di sostegno alla scolarizzazione.
Mentre Maison de Famille offre una casa e cure materne ai bambini che non hanno più una famiglia in cui crescere.