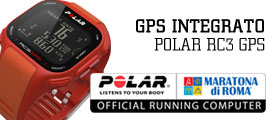 News
At 100 days to the final deadline, two records already achieved for the 20th edition of Maratona di Roma, taking place on March 23rd 2014: number of foreign ...

Tomorrow there will be the ceremony awards (at the theater of the I. C. Belforte del Chienti) of the project "La Maratona va a scuola 2013!" ...

DESCRIPTION OF THE WORK A) The compositional structure synthesizes the three symbols of the Rome Marathon. The Colosseum – the city icon, that comes ...
Top Runners
Tous les coureurs dÕélite
| | | | | | | |
| --- | --- | --- | --- | --- | --- | --- |
| Drapeau | Prénom | Nom | Etat | Année de naissance | Record | ↓ BIB |
| | Nastassia | Staravoitava | Italia | | 2h27'24 | F9 |
| | Olga | Glok | Russia | | 2h27'18 | F8 |
| | Hellen | Mugo | Kenia | | 2h27'16" | F7 |
| | Sechale Adugna | Dalasa | Ethiopia | | 2h26'27" | F6 |
| | Goitetom Haftu | Tesema | Italia | | 2h26'21" | F5 |
| | Sultan | Haydar | Italia | | 2h25'09" | F4 |
| | Helena Loshanyang | Kirop | Kenia | | 2h23'37" | F3 |
| | Samiri | Touria | Italia | | Pacer 10 Km | F21 |
| | Ashu Rabo | Kasim | Ethiopia | | 2h23'09" | F2 |
| | Kassa Getnet | Selomie | Italia | | | F19 |
| | Elena Daniela | Cirlan | Italia | | 2h39'20" | F18 |
| | Janate | Hanane | Italia | | 2h34'20" | F17 |
| | Alemtsehay Mesfin | Demse | Ethiopia | | 2h34'22" | F16 |
| | Nadezdha | Leonteva | Russia | | 2h31'57" | F15 |
| | Tollesa Chaia | Gulume | Italia | | | F14 |
| | Taemo Shumye | Woldegebriel | Ethiopia | | 2h30'56" | F12 |
| | Drazdauskaite | Rasa | Italia | | 2h29'29" | F11 |
| | Biruktayit Eshetu | Degefa | Ethiopia | | 2h27'34" | F10 |
| | Hellen Jemaiyo | Kimutai | Kenia | | 2h25'53" | F1 |
| | Victor Kipchichir | Lagat | Kenia | | 2h09'13 | 9 |
| | Jacob Yator | Kiplagat | Kenia | | 2h09'02 | 8 |
| | Raymond Kiplagat | Kandie | Kenia | | 2h09'23 | 8 |
| | Samson Kiprono | Barmao | Italia | | 2h08'52 | 7 |
| | Dereje Tadesse | Raya | Ethiopia | | 2h08'46 | 6 |
| | Stephen | Chemlany | Kenia | | 2h07'55 | 5 |
| | Getachew Terfa | Negari | Ethiopia | | | 4 |
| | Giovanni | Grano | Italia | | Pacer W 42 Km | 39 |
| | Said | Dourmi | Morocco | | Pacer W 32 Km | 38 |
| | Amare | Wellay | Ethiopia | | Pacer W 21 Km | 37 |
| | Mewatsion Brhane | Wasihun | Ethiopia | | Pacer W 42 Km | 36 |
| | Amensisa | Ketema | Ethiopia | | Pacer W 42 Km | 35 |
| | Vasil | Matviychuk | Ukraina | | Pacer 25 Km | 34 |
| | Oloisung'a | Benson | Kenia | | Pacer 32 Km | 33 |
| | Simon | Cheprot | Kenia | | Pacer 30 Km | 32 |
| | Kimutai | Mattew | Kenia | | Pacer 21 Km | 31 |
| | Luka | Rotich | Kenia | | Pacer 21 Km | 30 |
| | Bekana Tolesa | Daba | Ethiopia | | 2h07'04 | 3 |
| | Igor | Davydov | Ukraina | | Pacer 10 Km | 29 |
| | Kaur | Kivistik | Estonia | | 1h05'36 | 28 |
| | David Kellum | Oloisa | Kenia | | 2h17'40 | 26 |
| | Festus Langat | Kiprotich | Kenia | | 2h13'50 | 25 |
| | Hermano | Ferreira | Portugal | | 2h13'28 | 24 |
| | Artem | Aplachkin | Russia | | 2h13'10 | 23 |
| | Patrick Kiptanui | Korir | Kenia | | 2h12'07 | 22 |
| | Jackson | Lokochol | Kenia | | 2h11'53 | 21 |
| | Wosen Zeleke | Demse | Ethiopia | | 2h11'25 | 20 |
| | Chele | Dechasa | Ethiopia | | 2h06'33 | 2 |
| | Girmay Birhanu | Gebru | Ethiopia | | 2h11'20 | 19 |
| | Philemon Kipchumba | Kisang | Kenia | | 2h11'11 | 18 |
| | Cheru Meghesa | Teshome | Kenia | | 1h02' | 17 |
| | Tujuba Megersa | Beyu | Ethiopia | | 59'43 | 16 |
| | Hillary | Kiproni Bii | Kenia | | 1h01'15 | 15 |
| | Wolde Tsegaye | Botoru | Ethiopia | | 2h09'57 | 14 |
| | Haile Haja | Gemeda | Ethiopia | | 2h09'34 | 13 |
| | Cosmas Koech | Kimutai | Kenia | | 2h09'25 | 12 |
| | Luka Lokobe | Kanda | Kenia | | 2h08'40 | 1 |
| | Kifle Alem | Fikre | Ethiopia | | 32'39" | |