7 Apr 2019
Maratona di Roma 2019

Countdown:
- -- Tage : -- Stunden : -- Minuten : -- Sekunden
ALBARACE - IN 1000 ALLA CORSA DEL SOLE CHE SORGE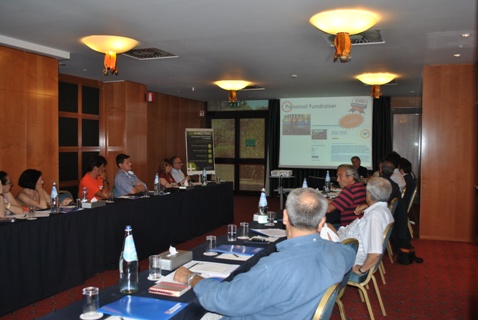 The Rome Marathon 2013 charity program has been launched this morning in a meeting with representatives of some of the biggest NPOs of the nation.

In 2012, 103 organizations have taken part in the program. 80 of them were Italian, 23 came from other countries. Rome Marathon organizers are confident to keep increase these figures once again.


6 new English and American charities, as of this week, have confirmed their participation in the Rome Marathon 2013.


For the first time, Italian charities will have the chance to buy and sell, alongside with 4k entries, also marathon bibs


Runners wishing to run for them will have to collect at least EUR 200.00 in donations on www.retedeldono.it, Rome Marathon's fundraising partner.

Even more interesting for runners, all charities will have to set cheering points along the course. With music and support they will entertain and cheer up their runners and other associations' supporters alike.


Retedeldono.it has also established a series of charity contests. The top three charities that by March 13 will have collected most money, will receive an additional offer of EUR 1,000 from Retedeldono.it.


There will also be contests for the best-dressed runners and for the best cheering stations.
"We work hard to make of the Rome Marathon a city celebration and an occasion for people to come together for good causes and focused aims" – says Rome Marathon President Enrico Castrucci.
"The Rome Marathon has got a great potential" – states Retedeldono.it's Valeria Vitali, who as a British citizen knows what she talks about when the conversation goes on the topic "charity". "We're set off for a new adventure in Italy's Capital city – we want to lead to a change in how people approach mass events in Italy. There's a whole charity-culture we wish to spread here and with the Rome Marathon we can make it.