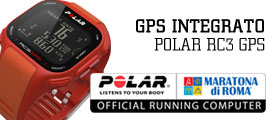 News
Maratona di Roma community keeps growing, we reached 20,000 fans on our Facebook page!

La sezione atletica di UniCredit Circolo Milano e Maratona di Roma sono lieti di annunciare l'organizzazione del Campionato ...

It will be held on monday 16th at Campidoglio, the press conference of Race For Life, the sports event organized by Csen Roma and Maratona di Roma, ...
Top Runners
Tous les coureurs dÕélite
| | | | | | | |
| --- | --- | --- | --- | --- | --- | --- |
| Drapeau | Prénom | Nom | Etat | ↓ Année de naissance | Record | BIB |
| | Igor | Davydov | Ukraina | | Pacer 10 Km | 29 |
| | Luka Lokobe | Kanda | Kenia | | 2h08'40 | 1 |
| | Chele | Dechasa | Ethiopia | | 2h06'33 | 2 |
| | Bekana Tolesa | Daba | Ethiopia | | 2h07'04 | 3 |
| | Getachew Terfa | Negari | Ethiopia | | | 4 |
| | Stephen | Chemlany | Kenia | | 2h07'55 | 5 |
| | Dereje Tadesse | Raya | Ethiopia | | 2h08'46 | 6 |
| | Samson Kiprono | Barmao | Italia | | 2h08'52 | 7 |
| | Jacob Yator | Kiplagat | Kenia | | 2h09'02 | 8 |
| | Victor Kipchichir | Lagat | Kenia | | 2h09'13 | 9 |
| | Raymond Kiplagat | Kandie | Kenia | | 2h09'23 | 8 |
| | Cosmas Koech | Kimutai | Kenia | | 2h09'25 | 12 |
| | Haile Haja | Gemeda | Ethiopia | | 2h09'34 | 13 |
| | Wolde Tsegaye | Botoru | Ethiopia | | 2h09'57 | 14 |
| | Hillary | Kiproni Bii | Kenia | | 1h01'15 | 15 |
| | Tujuba Megersa | Beyu | Ethiopia | | 59'43 | 16 |
| | Cheru Meghesa | Teshome | Kenia | | 1h02' | 17 |
| | Philemon Kipchumba | Kisang | Kenia | | 2h11'11 | 18 |
| | Girmay Birhanu | Gebru | Ethiopia | | 2h11'20 | 19 |
| | Wosen Zeleke | Demse | Ethiopia | | 2h11'25 | 20 |
| | Luka | Rotich | Kenia | | Pacer 21 Km | 30 |
| | Jackson | Lokochol | Kenia | | 2h11'53 | 21 |
| | Patrick Kiptanui | Korir | Kenia | | 2h12'07 | 22 |
| | Artem | Aplachkin | Russia | | 2h13'10 | 23 |
| | Hermano | Ferreira | Portugal | | 2h13'28 | 24 |
| | Festus Langat | Kiprotich | Kenia | | 2h13'50 | 25 |
| | David Kellum | Oloisa | Kenia | | 2h17'40 | 26 |
| | Kaur | Kivistik | Estonia | | 1h05'36 | 28 |
| | Kimutai | Mattew | Kenia | | Pacer 21 Km | 31 |
| | Simon | Cheprot | Kenia | | Pacer 30 Km | 32 |
| | Oloisung'a | Benson | Kenia | | Pacer 32 Km | 33 |
| | Vasil | Matviychuk | Ukraina | | Pacer 25 Km | 34 |
| | Amensisa | Ketema | Ethiopia | | Pacer W 42 Km | 35 |
| | Mewatsion Brhane | Wasihun | Ethiopia | | Pacer W 42 Km | 36 |
| | Amare | Wellay | Ethiopia | | Pacer W 21 Km | 37 |
| | Said | Dourmi | Morocco | | Pacer W 32 Km | 38 |
| | Giovanni | Grano | Italia | | Pacer W 42 Km | 39 |
| | Hellen Jemaiyo | Kimutai | Kenia | | 2h25'53" | F1 |
| | Ashu Rabo | Kasim | Ethiopia | | 2h23'09" | F2 |
| | Helena Loshanyang | Kirop | Kenia | | 2h23'37" | F3 |
| | Sultan | Haydar | Italia | | 2h25'09" | F4 |
| | Goitetom Haftu | Tesema | Italia | | 2h26'21" | F5 |
| | Sechale Adugna | Dalasa | Ethiopia | | 2h26'27" | F6 |
| | Hellen | Mugo | Kenia | | 2h27'16" | F7 |
| | Olga | Glok | Russia | | 2h27'18 | F8 |
| | Nastassia | Staravoitava | Italia | | 2h27'24 | F9 |
| | Biruktayit Eshetu | Degefa | Ethiopia | | 2h27'34" | F10 |
| | Drazdauskaite | Rasa | Italia | | 2h29'29" | F11 |
| | Taemo Shumye | Woldegebriel | Ethiopia | | 2h30'56" | F12 |
| | Kifle Alem | Fikre | Ethiopia | | 32'39" | |
| | Tollesa Chaia | Gulume | Italia | | | F14 |
| | Nadezdha | Leonteva | Russia | | 2h31'57" | F15 |
| | Alemtsehay Mesfin | Demse | Ethiopia | | 2h34'22" | F16 |
| | Janate | Hanane | Italia | | 2h34'20" | F17 |
| | Elena Daniela | Cirlan | Italia | | 2h39'20" | F18 |
| | Kassa Getnet | Selomie | Italia | | | F19 |
| | Samiri | Touria | Italia | | Pacer 10 Km | F21 |