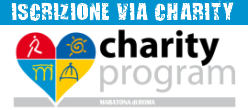 Focus
Guess what? The Marathon is over and it's time to party! Runners, friends, spectators: we are delighted to invite you to keep celebrating for a few more hours ...

Maratona di Roma celebrates his 20th Anniversary with an extraordinary race packet: every participant will receive a backpack and a technical tee branded ...

Run the marathon for a great cause. Do not miss the opportunity to transform lives and give back to the community. Last year, the Rome Marathon charity program ...

SCHOOLS of LAZIO
The project, developed together with Regione Lazio - Department of Culture, Arts and Sport, involves thousands of pupils in elementary schools throughout the region. The young athletes along with parents and teachers reach the Roman Forum (start line of RomaFun 4k) on the buses provided by the organization.