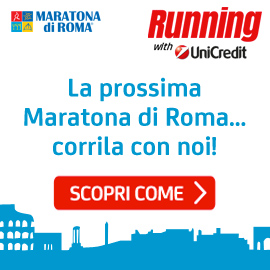 Focus
Guess what? The Marathon is over and it's time to party! Runners, friends, spectators: we are delighted to invite you to keep celebrating for a few more hours ...

Maratona di Roma celebrates his 20th Anniversary with an extraordinary race packet: every participant will receive a backpack and a technical tee branded ...

Run the marathon for a great cause. Do not miss the opportunity to transform lives and give back to the community. Last year, the Rome Marathon charity program ...
Anmeldeformulars Individuelle Maratona di Roma
Bitte füllen Sie die Felder des Anmeldeformulars (drei Seiten) und des ärztlichen Formular in Grossbuchstaben aus. Das Feld "Fax" muss nicht unbedingt ausgefüllt werden. Es ist jedoch verpflichtend, eine Telefonnummer und eine E-Mail-Adresse anzugeben, um wichtige Informationen bzgl. des Laufs zu erhalten.
Wichtig: Für die Zuteilung der Startnummern ist es notwendig, Ihre persönliche Bestzeit der letzten zwei Jahre anzugeben. Wer seine persönliche Bestzeit der letzten zwei Jahre nicht angibt oder Debütant ist, startet automatisch in der Start Area D.
Die Anmeldung gilt erst als abgeschlossen, wenn sie in Übereinstimmung mit den Teilnahmebedingungen vervollständigt wurde.
Um die Zusatzservices der Veranstaltung in Anspruch zu nehmen, müssen Sie sich in Ihrem privaten Account online anmelden (Benutzername und Passwort werden Ihnen per E-Mail zugesandt).
Es ist in jedem Fall verpflichtend, die Teilnahmebedingungen des 20. Rom-Marathons auf www.maratonadiroma.it in ihrer Gesamtheit zu lesen.