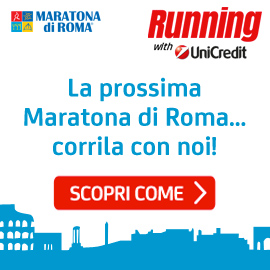 Focus
Guess what? The Marathon is over and it's time to party! Runners, friends, spectators: we are delighted to invite you to keep celebrating for a few more hours ...

Maratona di Roma celebrates his 20th Anniversary with an extraordinary race packet: every participant will receive a backpack and a technical tee branded ...

Run the marathon for a great cause. Do not miss the opportunity to transform lives and give back to the community. Last year, the Rome Marathon charity program ...
Iscripciòn Individuales Maratona di Roma
How register by FAX:
Rellenar con letras mayúsculas todos los campos de la ficha de inscripción y formulario medico. El campo "Fax" no es obligatorio, en cambio es obligatorio proporcionar al menos un número de teléfono y una dirección de e-mail para recibir las comunicaciones relativas a la competición.

IMPORTANTE: Para la asignación del dorsal es necesario proporcionar las mejores marcas personales de los dos últimos años. Aquellos que no proporcionen su récord personal de los últimos dos años o para los que sea su primer maratón se les asignará automáticamente el start area D
La inscripción se completa de acuerdo con los requisitos del Reglamento.
Para adquirir los servicios adicionales del evento es necesario acceder al área reservada online (usuario y contraseña le serán enviados al e-mail indicado por usted).
Es siempre obligatorio consultar el reglamento de la XX Maratona di Roma en su totalidad.