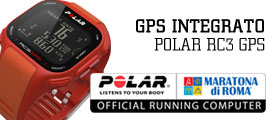 News
At 100 days to the final deadline, two records already achieved for the 20th edition of Maratona di Roma, taking place on March 23rd 2014: number of foreign ...

Tomorrow there will be the ceremony awards (at the theater of the I. C. Belforte del Chienti) of the project "La Maratona va a scuola 2013!" ...
Rome Marathon official medal
Superb artistic realization, strong symbolism of the image of a man and a woman running together – yet towards different directions, plus perfect synthesis of the elements that make the Rome Marathon unique (cobblestones of the streets, sense of holiness of most segments of the racecourse, history all around runners).
Author: Marco Pittacci
MEDAL DESIGN COMPETITION
Marco Pittacci's artwork has been chosen to be the official medal of the Rome Marathon 2013.
Pittacci, 25, is from Rome and holds a Degree in Scenography.
His sculpture has been selected by a panel of judges presided by Master Alfiero Nena, author of the last 15 Rome Marathon medals. Among the judges, also Olympic marathon gold medalists Stefano Baldini (2004) and Gelindo Bordin (1988).
At the Rome Marathon Expo (March 14-16, 2013) runners and visitors will have a chance to see all works and take part in interactive art sessions.