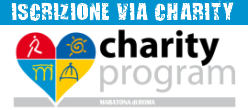 News
The artistic and historical richness of this marathoncourse is unparalleled in the world. There are more than 500 landmarks to discover: Colosseo, San Pietro, ...

RALF J. TRILLANA, young artist born in Manila (Philippines), is the author of the 2015 Maratona di Roma official medal. Short description: WATER FLOATING AND ...

On 22 March, 2015 an athlete, with an incredible sport career, will run the Maratona di Roma. Her name is Sigrid Eichner, born in Dresden on September 29th, ...
Rules 2015
The Italia Marathon Club, with the technical collaboration of Atielle Roma srl, is organizing the 21th edition of the Maratona di Roma. The race, inserted in the IAAF (International Association of Athletics Federations), AIMS (Association of International Marathons and Road Races), FIDAL (Italian Athletics Federation) and IPC (International Paralympic Committee) international calendars will be held on Sunday, March 22nd 2015, at 8.50am, with start and finish in via dei Fori Imperiali.
The 21st Maratona di Roma is certificated "IAAF ROAD RACE GOLD LABEL".
REGISTRATION: non-italian resident athletes
Failure to provide your membership card or health form (the health form must be filled in and authenticated by a doctor) will result in exclusion from the race.
Self certification is not valid for participation.
Non Italian-resident athletes must be 20 or older on the race day. In order to register for the race, these athletes must provide the following documents:
a) Athletes members of foreign Athletics Associationsaffiliated with either IAAF or IPC must upload a scanned copy of their membership card in the personal area at www.mymdr.it upon registration, or e-mail it to maratona@maratonadiroma.it. The membership card must be valid on the date of Maratona di Roma 2015; it must comply with all the rules and regulations on road running enforced in the athlete's country of residence upon registration.
b) In compliance with the Italian law for safety in sports, athletes who do not hold a membership card must send the original organisation health form (EN, ES, FR, DE) to the following address: Atielle Roma Srl – V.le B.Bardanzellu, 65 00155 Roma – Italia . The form must be filled in, stamped and signed by a doctor according to legislation enforced in the athlete's country.
It is also possible to send a medical certificate stating fitness for competitive athletics; said certificate must be valid in the athlete's country of residence, filled in, stamped and signed by a doctor, and comply with all the rules and regulations enforced in the athlete's country,.
In order to speed up the validation procedure, it is possible to upload the scanned copy of the health form or medical certificate (EN, ES, FR, DE) in the personal area at www.mymdr.it upon registration, or e-mail it to maratona@maratonadiroma.it. However, it is compulsory to send the original or provide it by hand to the Marathon Village upon withdrwal of one's bib.
REGISTRATION: ATHLETES RESIDENT IN ITALY
Registration of athletes supplying only a certificate for professional sports signed by their doctor is not allowed.
According to FIDAL regulations on organization of sports' events, all athletes over the age of 20 and with permanent residence in Italy are allowed to run the race under the following conditions:
a) Athletes registered in associations affiliated with FIDAL, CIP and FCI (for disabled athletes' Handbike categories). If registration is not signed by the Chairman of the association bearing personal responsibility, the athlete must supply a copy of the renewal registration in FIDAL for 2015, or of either CIP or FCI membership card (for disabled athletes' Handbike categories). If registration takes place before renewal of membership, the athlete shall in any case send a copy of FIDAL 2015 renewal or a substitute declaration, written on their Association's letterhead and signed by the Association's Chairman as soon as possible.
b) Athletes in the amateur (23-34) and masters (over 35) age ranges who are members of Associations for Promotion of Sports (Athletics) having signed a convention with FIDAL.
c) Italian-resident athletes who are not holders of a membership card supplying a professional sports certificate signed by their physician for athletics or running can register to Running Club Maratona di Roma (yearly membership of ASD Podisti Maratona di Roma), according to the procedure explained on the web-site www.rcmaratonadiroma.it;
DISQUALIFIED ATHLETES
Athletes disqualified twice from the 2007 edition, won't be eligible to register to the race.
REGISTRATION FEES
EUR 50.00 until June 30, 2014
EUR 70.00 until October 10, 2014
EUR 80.00 until December 12, 2014
EUR 90.00 until March 5, 2015 (final deadline)
EUR 150.00 from March 6th to 13rd, 2015 will be possible to ask for a slot (except in case all BIBS sell out earlier).
EUR 50.00 until December 12ve, 2014 for Italian-residents entering the Maratona di Roma for the first time.

Those who registered at previous editions and didn't pick up their Bib are not considered entering at Maratona di Roma for the first time.

EUR 60.00 until March 5th, 2015 for Italian-residents entering the Maratona di Roma for the first time.
EUR 50.00 until March 5th, 2015 for the Over 75 athletes.
EUR 50.00 until March 5th, for the finishers of one of the Maratona di Roma tune-up races (except for the ones inside Lazio).
Free entry for those athletes who have finished all 20 editions of Maratona di Roma.
Registration fee will be calculated according to the date payment is made.


Payment must be done by credit card at the end of the procedure or in each case by 10 days from the registration date, in the modalities indicated; after that date the registration will be canceled and the procedure must be repeated by entering the reserved area of the site www.mymdr.it again.
Registration forms which are either not duly filled or lack membership card (or health form) and payment receipt will not be accepted.
PAYMENT OPTIONS
You can choose one of the following options:
Visa or MasterCard payment on www.maratonadiroma.it (the transaction must be in Euros).

Bank transfer, (bank charges are on the payer), to: Atielle Roma srl c/o Monte dei Paschi di Siena, Ag. 14 - Via dei Castani 46 Roma - IBAN code: IT 63 R 01030 03214 000002431511 - SWIFT code PASCITM1R14.

Bank transfer, (bank charges are on the payer), to: Atielle Roma srl c/o Banca Popolare di Milano Ag.257 - Via Ettore Franceschini, 58 Roma - IBAN IT 82 G 05584 03206 000000011690 – SWIFT code BPMIITM1257

Bank transfer, (bank charges are on the payer), to: Atielle Roma srl c/o Unicredit Agenzia Via D'Onofrio B (30098) – Via D'Onofrio Roma – IBAN code: IT 25 V 02008 05264 000010342655 – SWIFT code UNCRITM1D48.
FOR BANK TRANSFER PAYMENTS, PLEASE SPECIFY THE NAME/S OF THE REGISTERED ATHLETE/S IN THE PAYMENT DETAILS (also for group registrations).
No payment made by Travel Cheque, Euro Cheque, international money order or draft check issued by any foreign bank will be accepted.
ON-LINE REGISTRATION
To register on line for the Rome Marathon the athletes must use the reserved area "MyMDR" of the web site. The athletes, who already have a user-id and password, can enter and follow the instructions. For the athletes who register for the first time it is necessary to register; once the registration will be completed, an e-mail with a validation link and with the own user-id and password will be received. The reserved area "MyMDR" will be useful also to register in the other races organised by the Italia Marathon Club.
REGISTRATIONS DEADLINE
March, 5th 2015

REGISTRATION CONFIRMATION
A confirmation e-mail will be sent to those athletes having paid and sent all necessary documentation. In the e-mail, there will be a user-id and a password to enter the website's reserved area. Confirmation Letters can be downloaded from there. The Confirmation Letter must be printed, signed and brought to the Marathon Village in order to collect the bib number.
REGISTRATION FEE TRANSFER AND POSTPONEMENT
Registration fees are not refundable. In case the athlete cannot take part in the Marathon, the athlete can choose one of the following options:
a) Transfer their registration fee to another athlete. The substitute must pay an additional fee of to € 10.00 in order to cover transfer expenses and provide all necessary personal and participation information (membership card / physician statement). The deadline for this is January 30, 2015.
b) Transfer their registration fee to the following edition of Maratona di Roma, by paying an additional fee of € 10.00 (until January 30th, 2015) and € 15,00 (within March 5th, 2015) in order to cover postponement expenses.
La società od il gruppo sportive che richiederà successivamente cambi di nominative, dovrà versare un supplemento per ogni pettorale di €2,00 (entro il 30 gennaio 2015) e di € 15,00 within March 5th 2015).
BIB NUMBERS – to be released.

BIB NUMBER AND RACE PACKET
Participants must personally pick up bib number and race packet at the Marathon Village from March 19th to March 21st, 2015
Bibs and race packets will not be cumulatively provided to entire groups and/or sports clubs.
Upon receiving their bib:
- Athletes having complied with the obligations set by the current Rules and Regulation must provide a filled in validation form, fully-fledged ID.
- Those athletes who have not completed their registration and validation procedure by March, 5th, 2015 may receive their bib at the Marathon Village "pending desk". In order to receive their bib they must provide the missing documents (membership card or health form) and fully-fledged ID.
- Disabled athletes may receive their bib and the marathon kit at the dedicated desk.
PACE MAKERS
The Organization will provide a team of qualified race assistants who will run the marathon at a constant pace in order to cut the finish line in:
3:00 hours yellow, 3:15 hours green, 3:30 hours baby blue, 3:45 hours orange, 4:00 hours fuchsia, 4:15 hours white, 4:30 hours blue, 4:45 hours red, 5:00 hours violet.
There will also be pacemakers for Fitwalkers.
RESPONSIBILITY OF THE ATHLETE
The registered athlete bears responsibility for the ownership and safe-keeping of his/her race bib, thus acquiring the right to use all the services listed in the current rules and regulations and notified later on.
a) Any athlete taking part in the race without a bib will be held accountable for all damage occurred to objects and people, including his/herself. Moreover, he/she will be subject to sports' sanctions to be determined by federations' authorities among the sanctions enforceable in case of theft (art. 624. of the Criminal Code).
b) Any athlete taking part in the race wearing a counterfeit bib or an irregular bib will be held responsible as mentioned before and will be subject to sanctions; moreover, he/she can be subject to criminal sanctions among those enforceable in case of either theft (art. 624. of the Criminal code), or fraud (art. 640 Criminal code).
If cases a) and b) occur participants can be subject to sanctions among those enforceable in case of "failure to comply with rules and regulations imposed by Authorities " (art. 650 of the Criminal Code).
The above-mentioned infringements must be proved by accurate photo or video documentation.
LEFT LUGGAGE SERVICE
You may take advantage of the left luggage service. Instructions will be provided together with the bib.
Disabled athletes can change their wheelchair at the dedicated gazebo.
TIMING CHIP
The Maratona di Roma chip does not need to be returned after the race. Specific instructions on how to use it will be in the race day information.
Timing points will be installed every 5 Km of the marathon and half marathon route. Other timing points will be installed in other stretches of the route in order to check the fairness of the ranking procedure.
MEDICAL ASSISTANCE
Medical assistance will be guaranteed all along the racecourse. Also, there will be aid stations every 5km and an emergency First Aid Station just off the finish area. Specialized physical therapists are available for sport massages just beyond the finish area. The Organization will also provide technical assistance to wheelchair and handbike athletes for breakdowns.
Following the mass event and wheelchair and handbike race (on bikes, scooters, etc.), transit along the racecourse is strictly forbidden.
MAXIMUM TIME
The maximum time to finish the Marathon is 7 hours.
Information on the race day shall include a table containing all details of maximum time at intermediate kilometres. A technical committee composed of a member of the organization staff, a FIDAL judge, members of the City Police, of local public transport and street cleaning institutions shall close the flow of athletes and assess actual closing of the route according to the situation of the last participants on the various kilometres.
WITHDRAWAL FROM THE RACE
If you wish to withdraw from the race, make sure you reach one of the refreshing points along the route. Shuttle-buses depart from these refreshment points.
AFTER THE MARATHON
Athletes crossing the finish line will be awarded the official medal. Rankings and participation diplomas will be downloadable at www.maratonadiroma.it in the days immediately after the race.
Written requests regarding changes and insertions to the rankings will be accepted until 7 dace after the publication. After this date rankings will be considered final.
Personal race videos will be on sale on the rankings-page of the website.
INDIVIDUAL PRIZES – to be released.
BONUS TOP ATHLETES – to be released.
OPEN CATEGORY AWARDS – to be released.
ATHLETES RESIDENT IN ITALY AWARDS – to be released.
ITALIAN ASSOCIATIONS AWARDS – to be released.
FOREIGN CHARITY AND CLUBS – to be released.
RACE CANCELLATION
In case the race is annulled and/or fails to take place due to reasons which are not connected in any way to the Race Organisation - including revocation of authorisation by the competent Public Authorities - the registered athlete shall waive any claims to Associazione Italia Marathon Club and/or Atielle Roma s.r.l., including reimbursement of current and future expenses. By signing the race registration form, the athlete waives any claim for damages and/or indemnification and any reimbursement, and/or compensation claim with regard to any current and future financial loss.
IMAGE RIGHTS
As a registered participant in the XI edition of the Maratona di Roma each athlete authorizes the organization, together with the legal subjects with whom the organization has professional and trade relations concerning and related to filming/taking photographs of the event, to use fixed or moving images taken of him/her and displayed during the Maratona di Roma free of charge. Authorization is unlimited and may be used the world throughout or included in mediums, such as promotional and/or advertising materials, publications and videos -as current laws permit-, and includes eventual extensions to the foreseen timeframe.

LIABILITY AND PRIVACY
Upon registration to Maratona di Roma the athlete hereby declares that he/she knows and accepts all the provisions provided for by the current Rules and Regulations. The athlete excludes liability (both civil and criminal) for any damage to things and people he/she might cause, both directly and indirectly. The athletes must respect the Road Code. Within the meaning of Leg. Decree n°196 dated 30/6/2003, the athlete is bound to read and accept the Privacy Terms published on the Internet website www.maratonadiroma.it and to authorize the Organization to use his/her personal data.

COMPLAINTS
Complaints must be presented by March 31st 2015, by paying a tax of € 50.00 (refunded if the complaint is found to be justified).
MISCELLANEOUS
For any unforeseen matters not mentioned in the existing regulations, please refer to the specific rules and current laws. Race judges may disqualify athletes not having passed through the regular checkpoints set up along the racecourse. The Organizing Committee reserves the right to vary any clause stipulated in the current Rules and Regulations at any time, due to force majeure.

"ROMAFUN" – LA STRACITTADINA
The non competitive run will start immediately after the start of the competitive Marathon.

CONTACTS
Atielle Roma srl
Registered Office: Via Fagarè, 15 – 00195 Rome – Italy
Operating Office: Viale B. Bardanzellu, 65 – 00155 Rome - Italy
www.maratonadiroma.it – info@maratonadiroma.it
tel. +39 06 40 65 064
fax +39 06 40 65 063
Disabled athletes information: infodisabili@maratonadiroma.it