Focus
Finisher's medal for Maratona di Roma 20th Anniversary will be chosen by a contest among young artists and there will be a €1,000 prize for the ...

Click here to check the rankings:

Acea Maratona di Roma 2014 racecourse has some news compared to the last editions. Due to the roadway downsizing and the high number of registrations, ...
Romafun Info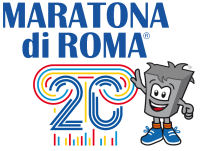 Der Stadtmarathon Rom ist nicht nur ein Rennen für Athleten der sportlichen Extraklasse. Auch die mehr als 80.000 Teilnehmer an dem inzwischen schon traditionsreichen ROMAFUN - "La Stracittadina", einem nicht wettbewerblichen Lauf über 5 km, verleihen dem Marathonfest sein unverkennbares Gesicht. Eigentlich ist der ROMAFUN - "La Stracittadina" eher ein gemeinsamer Spaziergang als ein echtes Rennen, an dem jeder teilnehmen kann: Schulkameraden, Großeltern mit ihren Enkeln, Eltern mit ihren Kindern, Haustiere - alle können mitmachen – nicht nur zu Fuß, auch Rollerblades sind erlaubt…. Kurzum, wie jedes Jahr ist für viele vor allem das Gefühl des Dabei- und Beisammenseins einer der Gründe, mitzumachen. € 8

STADTVERKEHR IN ROM

Wenn Sie die Startnummer tragen, können Sie am 23. März U-Bahn, Straßenbahn und Bus kostenlos benutzen.
Die U-Bahn ist von 7.00 Uhr bis 9.00 Uhr auf dem ganzen netz von allen Stationen aus gratis zu benutzen. Bei der Station "Colosseo" (Eingang bei "Largo Agnesi") und "Cavour" ist der Zugang von 10.30 Uhr bis 16.30 Uhr gratis.

REGISTRATION FEE: € 8,00 included official t-shirt.
MEETING: 8.00am - Via Cavour
START: 9.10am Via dei Fori Imperiali
FINISH: Circo Massimo
Official RomaFun Tee