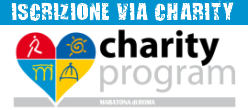 News
It was held on monday 20th of october the ceremony awards (at the theater of the I. C. VIa Latina) of the project "La Maratona va a ...

Here 2015 Rome Marathon official Tee !!Technical fabric and NB DRY technology user for the Marathon Tee, 100% dry cotton T-shirt for all RomaFun ...

Maratonadiroma.it for mobile is now online!Thanks to the graphics optimized for smaller screens, you can now type maratonadiroma.it, access to the pages of the ...
Top Runners
Todos los corredores de élite
| | | | | | | |
| --- | --- | --- | --- | --- | --- | --- |
| Bandera | ↓ Nombre | Apellido | Estado | yearold | Tiempo | BIB |
| | ALBINA | MAYOROVA | Italia | | 2h23'52" | |
| | BEYENE DEMEKE | MOSISA | Ethiopia | | 64' | |
| | DENNIS | CURZI | Italia | | 2h11'17" | |
| | EMMA | QUAGLIA | Italia | | 2h28'15" | |
| | GEDA AYELU | LEMMA | Ethiopia | | 2h32'10" | |
| | JACKSON KIPKOECH | KOTUT | Italia | | 2h07'30" | |
| | JANAT | HANANE | Morocco | | 2h34'20" | |
| | LEGESE SHUME | HAILU | Ethiopia | | 2h09'06" | |
| | LEONARD KIPKOECH | LANGAT | Kenia | | 59'52" | |
| | MARCELLA | MANCINI | Italia | | 2h33'17" | |
| | MEKONNEN SISAY | JISA | Ethiopia | | 2h06'27" | |
| | MIMMO | RICATTI | Italia | | 2h15'16" | |
| | OLENA | SHURKHNO | Ukraina | | 2h28'15" | |
| | SOBOKA BEYENE | EFFA | Ethiopia | | 2h12'57" | |
| | SOLOMON DEKSISA | GONFA | Ethiopia | | 62'16" | |
| | WALTER PETER | KORORIA | Kenia | | 2h16'06" | |
| | WELDON KIPRONO | KORIR | Kenia | | 62'42" | |