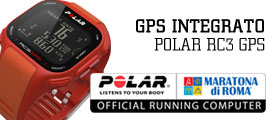 News
At 100 days to the final deadline, two records already achieved for the 20th edition of Maratona di Roma, taking place on March 23rd 2014: number of foreign ...

Tomorrow there will be the ceremony awards (at the theater of the I. C. Belforte del Chienti) of the project "La Maratona va a scuola 2013!" ...
A City Feast
The Rome Marathon meets the world. Rome is where worlds meet. "Una città in Festa", the Rome Marathon Music Festival will once again turn the city into a 26-miles wide stage.
50 events will cheer on runners as they struggle to make it to the finish line. Big concert bands, DJs, drummers, rock bands, street musicians, folk artist from all around the globe – just like the marathon itself, the festival is a celebration of the richness of the mankind.

ROME INTERNATIONAL FOLK FESTIVAL
11:00 to 16:30
Piazza Madonna di Loreto
A cura dell'associazione La Chiarantana, diretta da Chiara Bettinali
Mariano De Simone, blues
La Chiarantana, a cura di Chiara Bettinali
Danza Afro Americana, a cura di Isabella Venantini
Cultura Ukraina, musica folk
Le donne del Nicaragua, a cura di Lidia Obando
Il cerchio dell'Amicizia, danze mediorientali, a cura di Paola Pagliani
Flamenco, Scuola di Eduardo Rocha
Bolivia Andina, a cura di Paola Gutierrez
Ginga Carioca, Escola de Capoeira, a cura di Mestre Paulinho
Kaustubha, Danza Indiana a cura di Laura Grandinetti
Le figlie di Nur, a cura di Shalimar Nur
Shamsa, danza orientale a cura di Daniela Santonico
Orchestès Danza, danze mediorientali, a cura di Maria Luisa Sales
Accademia Ellenica, a cura di V. Polizois Grecia
Alpa Sumac, Ecuador, a cura di Julio Palacio
Artaras, Romania a cura di Tatiana Ciobanu
Kayumanggi Dance Co. Filippine, Dulcie Mendoza
Ensemble Venezuela, a cura di Luz Marina Davila
Cuba, scuola di salsa a cura di Fabrizio Grelloni
Rincigi Linne, Irlanda, a cura di Maria Matricardi
Más que tango, a cura di Andrea Lopez
Dana's Club, Scuola di tango, a cura di Donatella e Piero
Zamacueca, folklore argentino e colombiano a cura di Paula y Humberto
Sol, Lluvia y flores e Mariachi Guadalajara, Messico, Chiara Bettinali
LE GRANDI BANDE
Banda Vigili Urbani di Roma
Banda Polizia di Stato
Banda della Finanza
Banda Vigili Urbani di Roma
Banda della Marina Militare
Fanfara Carabinieri
Banda Arturo Toscanini
Banda Scuola Musica Popolare Testaccio
GIOCHI DI STRADA


UNA CITTÀ IN FESTA: MUSICA ED INTRATTENIMENTIO
Warm Up - La Madonnetta Fitness Park
Fanfara Bersaglieri (Ass. Nazionale)
Majorettes Torri in Sabina
Gruppo Storico Romano
DJ Marathon
FORUM - Villa Aurelia - Villa York
Giochi Popolari di Dora Cirulli
Insieme per lo Sport-Ostia
Coro Gospel New Light Singers
Neuma di Claudio Proietti
Caracca Percussioni Brasiliane
Akuna Matata Tamburi Itineranti
IL FESTIVAL DEGLI ARTISTI DI STRADA
Coordinamento di Enrico Capuano
GURU PASSION MARATHON
3 dj-set sul percorso. Coordinamento di Ferdinando Colloca
Dj-sets en-route.
ART RUNNER ADRENALINA
Performance artistiche live sul percorso di gara. Coordinamento di Ferdinando Colloca.
Live art performance.