Charity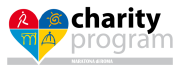 ¡Corre el Maratón de Roma por una buena causa! No pierdas la oportunidad de transformar vidas y dar algo en cambio a la humanidad.
El año pasado, el programa de caridad del Maratón de Roma lo formaron más de 103 organizaciones benéficas, de las cuales 80 eran italianas y participaron en la carrera de 4 kilómetros, mientras que cientos de atletas americanos, ingleses y canadienses recaudaron fondos para 23 organizaciones benéficas extranjeras. Correr con uno de nuestros grupos benéficos es una buena manera para que el maratón no sea solamente correr 42Km, sino contribuir con una buena causa.

Todas las organizaciones benéficas interesadas en participar con el Maratón de Roma 2013 pueden realizar sus consultas a comunicazione@maratonadiroma.it
ENZO B

Referente: Luana Garofalo
Telefono: +39 011 3910370
luana.garofalo@enzob.org
www.enzob.org

PETTORALI DISPONIBILI: 10

AMKA

Donatella Ferraro

Telefono: + 39 06 64760188 - + 39 393 6181607

Amka is a non-profit organization, founded in 2001 by the encounter of two different cultures and the desire to contribute to the real improvement of ...

D-PROJECT ONLUS

Referente: Concetto Tarascio
Telefono: +39 328 1071817
info@dprojectonlus.org
www.dprojectonlus.org

Soccorso Clown

Ruben Cataldo

Soccorso Clown s.c.s. o.n.l.u.s

Via Montebello, 32

50123 Firenze, Italia

info@soccorsoclown.it






Soccorso Clown nasce a Firenze nel 1995 ed è il primo servizio professionale in Italia di clown ospedalieri - non volontari - ma attori dallo ...

Ridere per Vivere

lorenzoclown@hotmail.com

Ridere per Vivere è una Federazione Internazionale che raggruppa varie.Associazioni e 2 cooperative sociali ONLUS. Ridere per Vivere ...

Round Table Children's Wish

Julie Atherton
857 Wimborne Road
Bournemouth BH9 2BQ
Dorset
England
Tel: +44 (0)1202 514 515
Fax: +44 (0)1202 547 787
www.rtcw.org
info@rtcw.org


RTCW grants wishes to children suffering from life-threatening illnesses at a time when they need it the most. They only grant wishes which are truly ...

Whizz-Kidz

Elliot House, 10-12 Allington Street,
London SW1E 5EH
United Kingdom
www. whizz-kidz.org.uk
info@whizz-kidz.org.uk
Tel. +44 (0)20 7233 6600.

The aim of Whizz-Kidz is to ensure that every disabled child has an opportunity to be something special…a kid. There are an estimated 70,000 ...

MS Society

Peter Marsh
372 Edgware Road
London
NW2 6ND
United Kingdom
Tel: +44 020 8438 0722
pmarsh@mssociety.org.uk
info@mssociety.org.uk

The MS Society is the UK's largest charity for people affected by multiple sclerosis (MS), about 100,000 in the UK. It funds MS research, provides ...

The Blue Card

(Masha Girshin)
171 Madison Avenue, Suite 1405
New York, NY 10016
Tel. +1 (212) 239-2251
Fax. +1 (212) 594-6881
mgirshin@bluecardfund.org
www.bluecardfund.org

The Blue Card was established by the Jewish community in Germany in the early 1930s, to help Jews already being affected by Nazi persecution through ...

Racing Welfare

(Richard Negus)
Robin McAlpine House,
20b Park Lane,
Newmarket,
Suffolk
CB8 8QD
Helpline (UK only): 0800 6300443
Tel. +44 (0)1638 560763
Fax +44 (0)1638 565240
rnegus[at]racingwelfare.co.uk
www.racingwelfare.co.uk

Racing Welfare is the Jockey Club's charity. They support those who work or have worked in the British horse racing industry. The people they ...

Brittle Bone Society

(Christine Hope)
Grant-Paterson House, 30 Guthrie Street
Dundee DD1 5BS
Scotland
Tel: +44 (01382) 204446
Fax: +44 (01382) 206771
chris@brittlebone.org
www.brittlebone.or


The Brittle Bone Society is the only UK charity supporting people who have Osteogenesis Imperfecta (OI): someone with OI can experience hundreds of ...

Stubs

(Craig Vassie)
Langley House, Tudor Road
Hazlemere, High Wycombe
Buckinghamshire HP15 7PA
Tel +44 (0)1494 811 500
Fax +44 (0)1494 814 050
mail@stubs.org.uk
http://www.stubs.org.uk


STUBS (as in "ticket stubs") is a registered charity that provides practical support for UK armed services personnel injured on duty, war ...

Tibet Relief Fund

(Helen Underhill)
Unit 9, 139 Fonthill Road
London N4 3HF
United Kingdom
helen@tibetrelieffund.co.uk
Tel: +44 (0)20 7272 1414

Tibet Relief Fund is a UK registered charity which provides vital healthcare, education, emergency aid and community development for vulnerable ...