7 Apr 2019
Maratona di Roma 2019

Countdown:
- -- Tage : -- Stunden : -- Minuten : -- Sekunden
RUN IT FOR CHARITY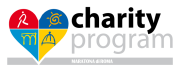 Running a marathon is a great way of improving your health and fitness and your self-confidence. Running on behalf of a charity is a effective, fun way of giving back to the community. The money you raise goes to a great cause of your choice and will make you feel good doing it.
Join the Maratona di Roma Charity Program: take on the challenge of running for something and raise money for charity. Click here for a list of the charities involved in the Rome Marathon 2013 (a special welcome to the first 6 Italian NPOs who have joined the program this year).