Charity Program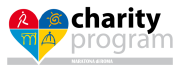 Maratona di Roma hosts hundreds of runners (and thousands of fun-runners) who choose to make their Rome-experience more meaningful by running on behalf of a charity.
In this page there are the charities committed in the 42k, and the associations and organizations cooperating with us in order to increase the social positive impacts of the marathon.
Art X World

http://www.retedeldono.it/onp/associazione-arts-x-world

Soccorso Clown

Ruben Cataldo

Soccorso Clown s.c.s. o.n.l.u.s

Via Montebello, 32

50123 Firenze, Italia

info@soccorsoclown.it






Soccorso Clown nasce a Firenze nel 1995 ed è il primo servizio professionale in Italia di clown ospedalieri - non volontari - ma attori dallo ...
26 Results 26